Popup Menus
From IceChat Wiki
Purpose
Popup Menus are customized commands that the user can add, and later use as context options, for several windows. They allow flexibility, and enhance the options that come initially with IceChat.
Popup Menus can be added to nick names, servers, channels and queries.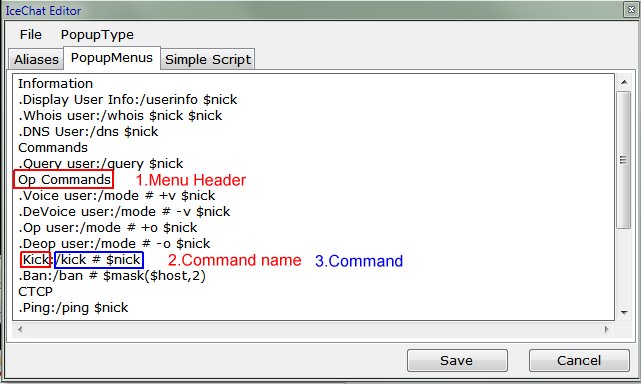 Add/ Edit Commands
Open the IceChat Editor from the Options menu entry, or with Ctrl+S keyboard shortcut.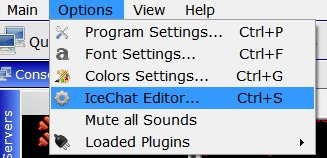 Then, select the required menu type from the PopupMenus tab, and the existing list of commands for that menu type is displayed. Initially, the NickList commands are displayed.


The format for a command is:
Command Title:command
To create a menu header, type the header text. See #1 in the first screenshot.
To create a menu entry with a title, type the following in a single line:
. (dot) to mark a sub-header
Command title followed by : (colon)
Command.
See #2 and #3 in the first screenshot.

This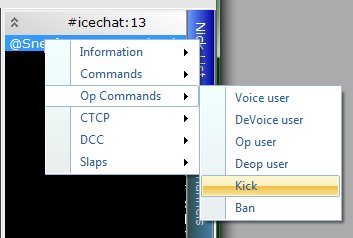 is the result of the commands in the 1st screenshot above.
Variables
# symbol represents the current channel.
Identifiers can also be used in commands.
For example, $1 or $nick can be used to represent the current nick, when in the Nick List.